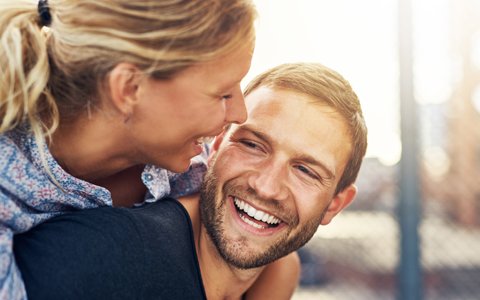 All of us want healthy teeth, but do you also want great-looking teeth? Would you like to show off a smile that looks better than it did last year? 
At Dove Dental Group, we can give your smile a makeover. You can get whiter teeth or straighter teeth. Close a gap, or get rid of chips or cracks that have bothered you for years. Tell us your goals, and we'll recommend services to give you the smile of your dreams! 
What Cosmetic Dentistry Services Can You Get?
We have a wide menu of cosmetic dentistry options. We can use one or a few of them to help you get the smile you want. So dream big! We'll create your smile using: 
Veneers: Custom-crafted, tooth-colored coverings for the front of visible teeth. We design and shape each veneer to make every tooth—and whole rows of teeth—look exactly the way you want.
Teeth Whitening: Offered in our office or in take-home kits. You can get the fastest results during a one-hour treatment here in the office, or wear a whitening tray at home for 30-minute segments on your own schedule.
Smile Makeover: Get big results on a damaged smile. We have helped patients with brown teeth, cracks and chips, misaligned teeth, and other challenges. We will use a combination of our most effective techniques on your teeth.
Our goal is to give you a smile you're very happy with, and we have the years of experience to accomplish this with a combination of artistry and science. Your dentists will be excited to see the results—and your friends, family, and colleagues will be astounded!
Get a Dazzling Smile with the Dove Dental Group
Your dentists at Dove Dental Group are ready and interested to give you the cosmetic dentistry results you want. Contact us now to schedule a consultation, and get ready to tell us about your dream smile!